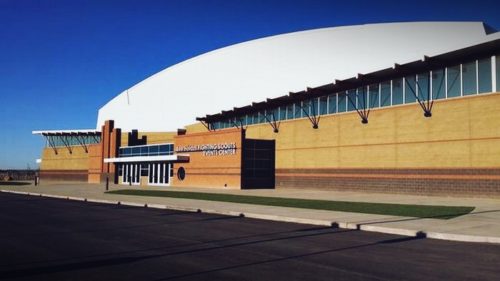 Construction staking on Navajo Nation improvement projects can be both a challenging and rewarding experience. Arizona Surveying has successfully completed dozens of Reservation surveying projects at or below budget for Arizona building contractors.
One of our favorite and largest projects to date was the Window Rock Event Center in Ft. Defiance, Arizona for FCI Constructors Inc. completed in 2014. The new Window Rock Event Center is a 129,014 square foot, three-story Arena for the Window Rock Unified School District. This new high school sports arena is designed to accommodate over 6,200 students and spectators and features competition and practice basketball courts, wrestling room, team facilities and locker rooms, public rest rooms, ticket and administration offices, media facilities, operations and support facilities.
The Window Rock Event Center is one of the Navajo Nation's newest and largest "Rezball" arenas and home court for the Window Rock High School "Fighting Scouts" boys and girls basketball and girls volleyball teams. Rezball, short for "reservation ball," is the avidly followed Native American version of basketball, a particular style of play that features a fast pace with quick transitions and continuous full-court presses. The games draw packed houses and are a cultural institution on the Navajo Reservation.
Arizona Surveying performed all calculations and construction staking for grading, parking, storm drainage, utilities, concrete, buildings along with post-construction as-built survey and CAD drawings.
Date:

Aug 2017

Client:

FCI Constructors Inc.